This is a Japanese vocabulary list of な-adjective(s) you need to know in order to pass the JLPT N5.
Click on any of the words below to see the full vocabulary lesson, including example sentences.
References: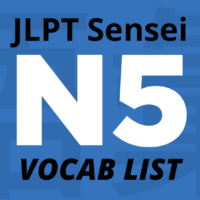 N5 な-adjectives PDF download here. (members only)
JLPT N5 vocab List total: (24)
Currently viewing page 1 of 1
Recommended JLPT N5 Books
---
*NOTE* This is not yet a complete list of all JLPT vocabulary lessons, and new lessons are being added every week.