What is JLPT Sensei?
JLPT Sensei is a language learning blog and online resource for people interested in learning Japanese.
Our lessons are built around the Japanese Language Proficiency Test (JLPT), which is the standard test to show Japanese proficiency and also usually a requirement for getting a non-English speaking job in Japan.
We categorize all of our lessons by level (advanced N1 ~ N5 beginner) and category (grammar, vocabulary, kanji, etc) in organized lists with the goal of making it as simple as possible for students to easily find lessons.
We are constantly expanding this site and adding new sections and lessons.
Our sister websites, learn Japanese in other languages
Support JLPT Sensei
Is this website useful to you? Help support JLPT Sensei on our Patreon page.
We offer multiple benefits for our members, including:
Completely ad-free website of JLPTsensei.com (coming soon)
Unlimited downloads of our E-books, printable study guides / lists, flashcards, and more!
See our full list of member benefits.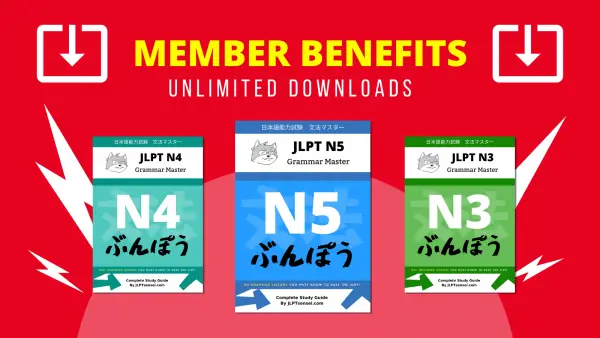 JLPT Sensei Super Fans
Thanks you so much to our Super Fan supporters on Patreon!
本当にありがとうございました!
Zach Lenser
Chi
Jens
Gregory Peterson
Funerals!
Fnu Sumo
Naathapit Lamsam
Ahmed Alqirsh
Bruce
D'Great Dexter Vargas
Thatsquare
Januard Macapili
Htet Naung Win
Hein Ko Ko
ruser0084
Paola Alcaine
Yasna Jäger
Pooru Sensei
Hanako Tsutsumi
Shu Ying Ang
Issa Mcmillan
Deborah Evans
Emily Morris
Gerelsuren Gn
Larry DeLuca
Jayson Horton
Mal
Jocelyn Tripoli
Aya Naly
scarletx
VonFriedricht
Aiman Amer
TheOnly Bada
Brian Blais
Jeffrey Lau
Sanuja Jayaratne
Thoeurn Bunthorn
junjunjun
Neville Chinan
Justin Bailey
이승은
Jane Nakayama
Eric
Aqualilium
agata dos santos conceição
Ivy_K
Iguanahouse
Saad Nawaz
Cary Price
Luis Corralejo
Brady Davis
Nicholas Menghini
Dirk O'Brien
Ravyn Hood
Jared Gongora
ソック ウドム
Chad Scott
joselyn
Anthony D. Vargas Jr.
Kailex Xavier
TCG Ed
Suocle
Enyang Manyi
Papa Caca
Willie Johnson
Ruud Jeurissen
Music1996kamara
MLD
Cameron Snow
Lars Erik Tønnessen
JAMES
Tristan Sodergren-Baar
Saileta Prabhu
Dorcas Molise
M
Dante Ielpi
Никита Карасёв
Imawa
HimuraXIII
Quang V. Nguyen
Praise
Srimal Dhanushka
Becca
Brad Krumm
Hein Htet Zaw
AceOfHearts
T.N.K. Arc
Rooma Abdeen
Darren Zhu
Kristofer Farmer
sari pierre-louis
Oscar A.
Giancarlo Metitieri
Irene
Sidharth Bhagat
aliikyuu
Amory Richard
Sol
Ralph Edouard II
Ray
All of our Super Fan supporters on Patreon will have their names permanently listed on this page.
About the creator
My name is Cruise. I've studied Japanese for over 10 years and initially made this website as a way to keep track of my personal notes, but it has developed into much more and is now one of the top online resources for learning Japanese and studying for the JLPT.
It's my hope that this website is helpful to as many people as possible in your journey learning the Japanese language.
BTW, I love cycling and also run a YouTube channel about cycling and life in Japan (now life in Vietnam), called Two Wheel Cruise.
Advertising Inquiries
Please contact me at info@jlptsensei.com