Learn Japanese grammar: ちゃいけない (cha ikenai) / ちゃダメ (cha dame) / じゃいけない (ja ikenai) / じゃダメ (ja dame) . Meaning: must not; may not; cannot (spoken Japanese).
This grammar is used to say this is something we should not do / may not do.
Use the verb's て form, but then remove the て

たべる -> たべて -> たべ

ちゃ

"taberu" -> "tabete" -> "tabe cha"
If the て form is で, then ちゃ turns to じゃ

のむ -> のんで -> のん

じゃ

"nomu" -> "nonde" -> "nonja"
3 Main Patterns
There are 3 ways this is commonly used
Pattern 1)
食べちゃ ダメ (tabe cha dame) = You cannot eat this.
See examples 1~3
Pattern 2)
食べちゃいけない (tabe cha ikenai) = same meaning
See examples 4~6
Pattern 3)
食べちゃいけません (tabe cha ikemasen) = same, but more formal
See examples 7~9
This is the more casual / spoken version of てはいけない (te wa ikenai)
ちゃいけない・じゃいけない

- Example Sentences

例文

Each example sentence includes a Japanese hint, the romaji reading, and the English translation.

Click the below red button to toggle off and and on all of the hints, and you can click on the buttons individually to show only the ones you want to see.
Example #1
neru mae ni sumaho o micha dame yo.
You shouldn't look at your smartphone before going to bed.
Example #2
koko wa kiken nano de, haiccha dame da yo.
This area is dangerous, so you're not allowed to enter.
Example #3
sonna ni jugyou o saboccha dame yo.
You shouldn't skip class so much.
Example #4
kare o shinyou shicha ikenai.
Example #5
yasai o taberu made dezaato o tabecha ikenai yo.
No eating dessert until you finish eating your vegetables.
Example #6
yaccha ikenai koto o yacchatta.
I did something I shouldn't have...
Example #7
jishin o naku shicha ikemasen!
You mustn't lose confidence!
Example #8
aka shingou o mushi shicha ikemasen.
You must not ignore red lights!
Example #9
kodomo no mae ni warui kotoba o iccha ikemasen.
We must not say bad words in front of children.
Example #10
hatachi miman no hito wa osake o nonja ikemasen.
People under the age of 20 cannot drink alcohol.
Vocabulary List
語彙
Kanji

漢字

Kana

カナ

English

英語

寝る
ねる
to sleep
前に
まえに
before
スマフォ
smart phone
見る
みる
to look
危険
きけん
dangerous
入る
はいる
to enter
授業
じゅぎょう
class; lecture
さぼる
to skip
彼
かれ
him
信用
しんよう
trust
野菜
やさい
vegetables
食べる
たべる
to eat
やる
to do
自信
じしん
confidence
無くする
なくする
to lose
赤信号
あかしんごう
red light
無視
むし
to ignore
子供
こども
children; child
悪い
わるい
bad
言葉
ことば
word; words
言う
いう
to say
20歳
はたち
20 years old (adult in Japan)
未満
みまん
not yet
お酒
おさけ
alcahol
飲む
のむ
to drink
Vocabulary items are displayed based on the order they appear in the grammar lesson.
View all JLPT N5 Vocabulary Lessons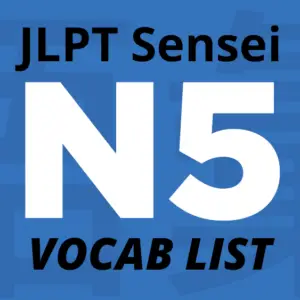 View all JLPT N5 Grammar Lessons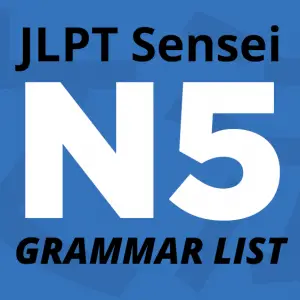 Recommended JLPT N5 Books
---