Here is our vocabulary list of lessons for all of the Noun(s) you need to know in order to pass the JLPT N3.
You can click on any of the words below to go to a customized lesson for that word with more details and example sentences.
For extra study, you can also use our full JLPT N3 vocabulary list or our JLPT N3 Study Guide.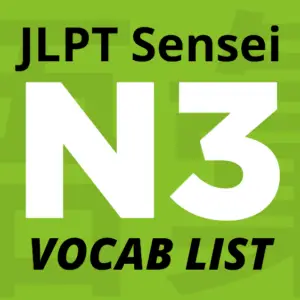 JLPT N3 vocab List total: (155)
Currently viewing page 1 of 4
Recommended JLPT N3 Books
---
*NOTE* This is not a complete list of every JLPT vocab yet.

I am working hard to add new lessons every day. If you have any requests, use the contact page to let me know.