Learn Japanese grammar: がる (garu) can be used to say that someone or yourself is showing signs of~, appearing to~, feeling~, etc.
This grammar point basically turns adjectives into verbs, so the tense can change based on the verb conjugation. Let's look at some examples:
がる

(garu) – to show signs of; to feel
General Use
彼は犬を怖がる。
kare wa inu o kowa garu.
He is (appears to be/seems to be) generally afraid of dogs.
Current Tense
彼は犬を怖がっている。
kare wa inu o kowa gatteiru.
He is currently showing signs of being afraid of dogs.
Past Tense
彼は犬を怖がっていた。
kare wa inu o kowa gatteita.
He was showing signs of being afraid of dogs.
---
欲しがる「ほしがる」

(hoshi garu) – to want

ほしい + がる combine to express a strong desire or want for something. Of course, any adjective can be converted to a verb, but this form is quite common.

Let's look at a basic example:

クルーズ先生は新しい自転車を欲しがる。。

Cruise sensei wa atarashii jitensha o hoshi garu.

Cruise-sensei wants a new bicycle (very badly).
---
Extra Study Notes
がる (garu) is generally used for speaking in the 3rd person, but it is also acceptable to use it for yourself in some situations.
がる・がっている

- Example Sentences

例文

Each example sentence includes a Japanese hint, the romaji reading, and the English translation.

Click the below red button to toggle off and and on all of the hints, and you can click on the buttons individually to show only the ones you want to see.
Example #1
Please don't feel scared (or afraid)
Example #2
hazukashi garanai de, mae ni dete kite kudasai.
Please don't be shy and come up here.
Example #3
shiai ni makete kuyashi garu.
Feeling (or appearing to be) bitter after losing the match.
Example #4
ototo wa korarenakute, totemo zannen gatteimashita.
My brother seems upset that he is not able to come.
Vocabulary List
語彙
Kanji

漢字

Kana

カナ

English

英語

彼
かれ
he
犬
いぬ
dog
怖い
こわい
scary; frightening
新しい
あたらしい
new
自転車
じてんしゃ
bicycle; bike
欲しい
ほしい
to want
恥ずかしい
はずかしい
Embarrassing
試合
しあい
match; game
負ける
まける
to lose
悔しい
くやしい
frustrating
残念
ざんねん
unfortunate; regrettable
Vocabulary items are displayed based on the order they appear in the grammar lesson.
View all JLPT N4 Vocabulary Lessons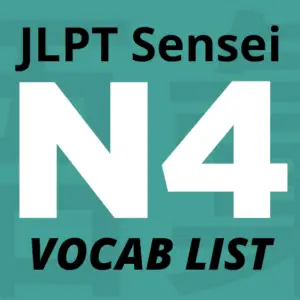 View all JLPT N4 Grammar Lessons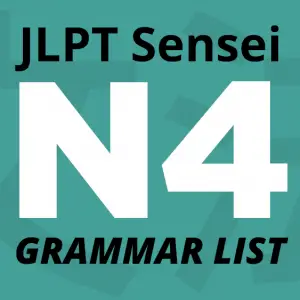 Recommended JLPT N4 Books
---